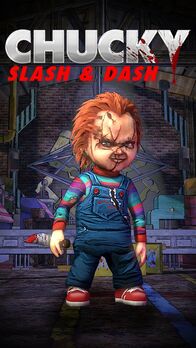 Chucky: Slash & Dash is an endless runner app, based on the Child's Play franchise.
Development
Edit
The game was announced by Slimstown Studios, for iPhone, iPad, iPod Touch and Android devices. It was released November 1st, 2013.
Chucky is stuck in a never-ending nightmare in which he's endlessly running through the factory that produces Good Guys dolls. Players control Chucky while sprinting through the factory floor, the catwalks, the warehouse, or even outside, and need to avoid conveyor belts, forklifts, acid pools, barrels and other obstacles.
Chucky can also eliminate security guards patrolling the factory using his classic knife or other more outlandish weapons like a cleaver, screwdriver, or hatchet. As they play, gamers collect batteries that can be used to purchase in-game items or power-ups, such as a double battery bonus, a fast start, or extra lives that can extend a run after dying.
Ad blocker interference detected!
Wikia is a free-to-use site that makes money from advertising. We have a modified experience for viewers using ad blockers

Wikia is not accessible if you've made further modifications. Remove the custom ad blocker rule(s) and the page will load as expected.